Motorbike Life
Welcome back folks. Today I wanted to talk about a great passion of mine: motorbikes. It's a passion that started the moment I bought my first bike straight after passing my test in 2003. It's also a passion that was kind enough to humble me after having my first accident a couple of weeks later, and teach me just how dangerous these remarkable feats of engineering really are. It's also something that has exposed me to the true meaning of acceleration, has seen me through a variety of experiences on different bikes, and excited me enough to buy a 1000cc v-twin that would take me across Australia.
After passing my DAS in England I was naturally thrilled. The whole point of my getting a motorbike license back then was because I'd been planning to leave England just after the summer in 2004. I knew that embarking on such a life-changing course would inevitable expose me to all sorts of situations and experiences, and I didn't want to be hindered by not having a license in the event that I should ever be faced with the opportunity to indulge in an experience I'll never forget.
The Inline Four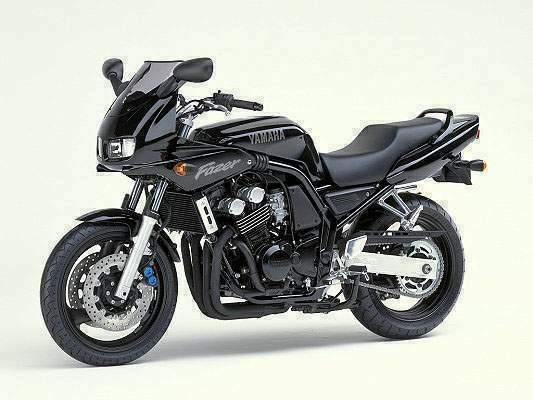 Shortly after passing my test, and knowing that I'd got a good six or seven months before my departure, I made a whimsical decision to buy a motorbike from the local dealership. I came away with a 2001 Yamaha FZ600, a street bike if you will, but something that would in a very short time blow me away. When you take your bike test in England your final practical assessment is done using a Honda CB400, which to me at the time was all I thought I would ever need. Even after passing my test and still riddled with endorphins I remember asking the guy at the training school if I could buy one of his stock 400s. He laughed and said 'Trust me. Get a 600. Just trust me.' It was the best advice I could've possibly had at the time. This Yamaha Fazer 600 was a screaming bundle of atomic energy. The engine was an inline-four, which is similar to that of a car engine, whereby four cylinders are positioned in a line each contributing to the final power output. The beauty of any inline four with motorbikes, is that they only really get excited high up in the rev range, so as you accelerate into the higher end you feel a sudden rush of warp-like acceleration that has you screaming at the top of your lungs inside your helmet.
The V-twin
My next purchase was when I first arrived in Australia four years later on a twelve month working holiday visa. I'd already decided I would be traversing the continent on motorbike. It happened to be my birthday when I went to the local Suzuki dealership along with a couple of buddies who wanted to tag along. I knew before stepping on to the forecourt what I'd be coming away with, because it winked at me the moment I laid eyes on it. It was an immensely sexy sunburnt orange Suzuki SV1000 Sport v-twin, with after market Yoshimura pipes. Jumping from a 600cc to a 1000cc also meant going into a different league entirely. It was the two-wheeled equivalent of a rare pristine pimped out Cadillac. I immediately turned to my buddy who didn't know what a v-twin really was and excitedly said 'Wait till you hear this!' The showroom rep had already dashed inside to get the keys, knowing full well that I'd spotted the Yoshis. He started her up and the surrounding hills suddenly became alive with the sound of music. The beauty of a v-twin is that it's kind of opposite to an inline four. They don't scream high up in the rev range, in fact, there isn't a high end to the rev range. They're all about torque, at the low end of the rev range, so in any given gear the v-twin pulls you, picks you up and catapults you forward as you scream at the top of your lungs inside your helmet. Naturally, I paid the deposit and picked her up the following day.
I also came away with full all-weather riding gear, a new helmet, boots, gloves and a waterproof tank bag that would house my personals and keep a map in a clear plastic pocket on top. All this smashed my budget somewhat and had I known then what I know now I would've bought all of it used, on international used for sale sites like http://www.for-sale.ie/. That same money spent would have given me a lot more in terms of gear and accessories, but that's the beauty of it all, you live and learn. The trip across Australia was phenomenal, and something I'll never ever forget, and it's also nice to know that there are people in various parts of rural Australia that will also never forget the sound of that v-twin screaming through their life momentarily.